Mlele Beekeeping Zone
Mlele Beekeeping Zone (BKZ) is a community managed protected area of 850 km2 located in the large Katavi-Rukwa Ecosystem in Western Tanzania miombo woodlands.
A community-based organization, Inyonga Beekeepers Association (IBA) established in Inyonga is in charge of the management of the protected area, with the aim to ensure sustainable use of selected natural resources, particularly bee products and wildlife, and conservation of habitat and species. This has been formally established through a Memorandum of Understanding signed between IBA and the Ministry of Natural Resource and Tourism. IBA is receiving support from a Swiss NGO, ADAP (Association for the Development of Protected Areas). The BKZ is a multiple use area authorizing regulated trophy hunting, beekeeping and ecotourism.
Management activities consist mostly in anti-poaching patrols and ecological monitoring patrols, infrastructure maintenance and management (track rehabilitation and maintenance, camp maintenance and management) and guiding of ecotourism clients and students during their field activities.
In view to achieve these objectives, 25 young villagers have been trained as Village Game Scouts and are patrolling the BKZ on a regular basis, with patrols conducted every month in collaboration with District anti-poaching unit or Wildlife Division officers.
Six of the VGS have been trained specifically in ecological monitoring; particularly to the use of GPS and camera traps. These training were conducted regularly since 2008 with the support of the University of Applied Sciences of Western Switzerland – hepia.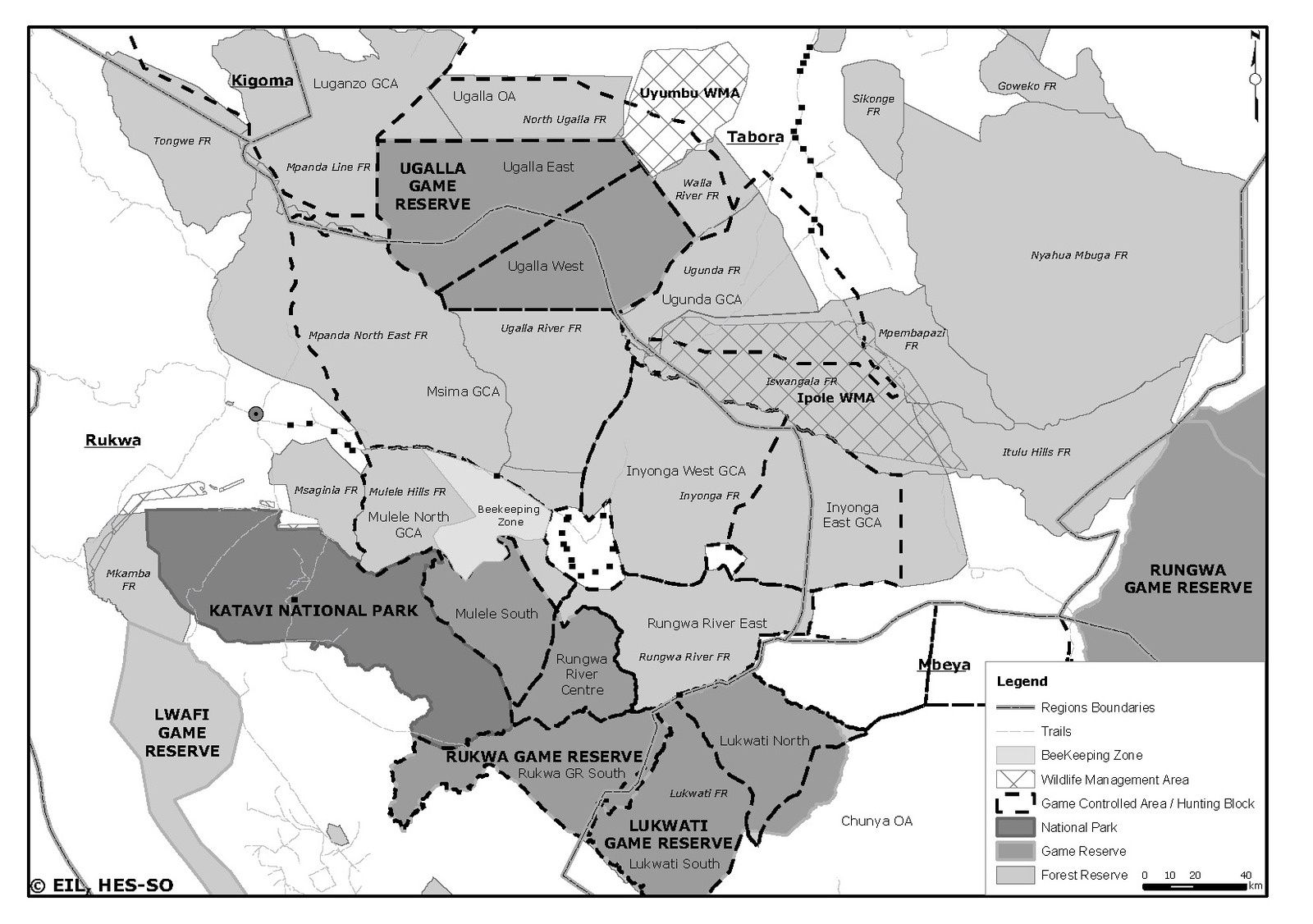 Map of the Western Tanzania "Katavi - Rukwa - Ugalla" ecosystem and protected areas. Mlele is located just north to Katavi and Rukwa boundaries.
ADAP - Association pour le développement des aires protégées
approche communautaire dans la gestion et la conservation des aires protégées, de la faune et de la flore. Son but est d'aider les communautés locales àfaire des ressources naturelles un facteu...
Institut inTNE-hepia - Haute école du paysage, d'ingénierie et d'architecture - Genève/Lullier,Suisse
Utilisation durable des ressources naturelles étude et gestion des interactions entre systèmes naturels et systèmes socio-économiques Les recherches menées par le groupe UDRN privilégient la ...
http://hepia.hesge.ch/fr/rad-et-prestations/institut-intne/equipes/utilisation-durable-res-nat/